Yesturday it started snowing.
We've had a couple of start-stop snow falls this year, but nothing spectacular and nothing that's lasted more than a day or two.
The snowflakes yesturday were the size of persimmons. Thankfully, it all melted overnight.
On to the topic at hand...
I decided to make cucumber kimchi on friday for my household and for a friend. I even took pictures and wrote down the recipe! (For once I was feeling ambitious.) The thing about this recipe is that it is super, super easy, and you can put the pickled cucumber into almost anything. I add it to my morning soup, I have it plain with rice, I'll stir-fry it with thin strips of beef or pork, or I'll use it as a tofu topper. It would also make a great onigiri stuffing.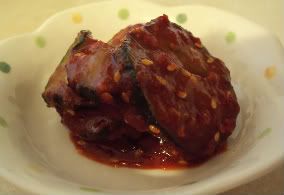 (
don't knock it 'til you try it
Collapse
)